Saline Teeth Whitening, Dental Implants, Veneers
From routine cleanings and fillings to bruxism devices, Woodland Family Dentistry is equipped to handle all your dental needs. To help you understand your options, we've included descriptions of some of our leading services on this page.
Bonding
Cosmetic Contouring
Crowns and Bridges
Specialty Dentures
Cosmetic Fillings
Implants
Veneers
Whitening

Sealants
Root Canal Therapy
Extractions
Scaling and Root Planing
Dentures
Cosmetic Dentistry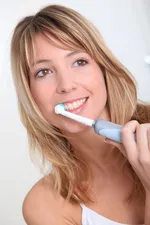 Initial Oral Examination
Your initial oral examination includes a visual examination, charting, periodontal probing, diagnosis and treatment recommendations. We will also take x-rays, including a complete set of x-rays, for proper diagnosis of the anterior (front) and posterior (back) teeth as well as the bite-wing x-rays for proper diagnosis of inter-proximal decay of posterior teeth.
Implants
Implants are synthetic structures that are placed in the area of the tooth normally occupied by the root. Implants are anchored to the jawbone or metal framework on the bone and act as a foundation for an artificial tooth or permanent bridge. In some cases, implants can be used to attach dentures. Read More...
Veneers
Veneers are thin pieces of porcelain or plastic cemented over the front of your teeth to change their color or shape. Veneers are used on teeth with uneven surfaces or are chipped, discolored, oddly shaped, unevenly spaced or crooked. Read More...
Crowns and Bridges
Crowns are synthetic caps, usually made of a material like porcelain, placed on the top of a tooth. Crowns are typically used to restore a tooth's function and appearance following a restorative procedure such as a root canal. When decay in a tooth has become so advanced that large portions of the tooth must be removed, crowns are often used to restore the tooth. Read More...
Teeth Whitening
Whitening procedures have effectively restored the smile of people with stained, dull, or discolored teeth.The darker tissue of your teeth, the dentin, can become exposed as the outer layer of enamel is worn away by the effects of aging or things like caffeine and tobacco. Read More...
Root Canal Therapy
Root canals are tiny passageways that branch off from beneath the top of the tooth, coursing their way vertically downward, until they reach the tip of the root. Read More...
Toothaches
Simple toothaches can often be relieved by rinsing the mouth to clear it of debris and other matter. Sometimes, a toothache can be caused or aggravated by a piece of debris lodged between the tooth and another tooth. Avoid placing an aspirin between your tooth and gum to relieve pain, because the dissolving aspirin can actually harm your gum tissue. Read More...
Dental Emergencies
Our goal is to help you to minimize the risk of emergency treatment. This is why we commit a generous amount of time designing a Lifetime Treatment Plan that will help you to offset the possibility of unforeseen pain or tooth breakage. Read More...

---

Our Products

Woodland Family Dentistry strives to stay innovative with dental technology. All of our staff members attend continuing education classes throughout the year that help them stay informed about new information in the dental field.
Made in Michigan! Many dental offices outsource their lab work to off-shore labs to save money. We proudly utilize Michigan dental labs which offer the finest dental work available. We work in partnership with our labs to customize each case to meet the needs of our patients.
Digital X-Rays Digital X-Rays use the most cutting edge imaging technologies. A thin sensor is used in place of traditional X-Ray film and the image is instantly displayed on the computer screen. We can show you your teeth and explain any problems that we might see. Another bonus is that digital X-rays use about half the radiation of conventional film.
ErgoSoothe Massage Chairs Using state-of-the-art technology, our new ErgoSoothe chairs massage and help you relax while you get your teeth cleaned.
Intra-Oral Camera Using our Intra-Oral Camera, pictures can be taken of your teeth. Are you curious about a cracked tooth or fracture? See why your tooth is being restored before the procedure begins!
Noise Reducing Wireless Headphones We offer wireless noise-reducing headphones that use Bluetooth technology to connect to your smartphone with music streaming. Tune out the sounds of the drill and enjoy your own personal soundtrack during your visit.
Oral B Genius 8000 Electric Toothbrush Designed to help you brush like your dentist recommends, the Genius 8000 seamlessly connects with the Oral-B smartphone app via Bluetooth technology to provide you with customized real-time feedback about your brushing habits. We are proud to offer this exceptional toothbrush for sale to our patients at a significant discount over retailers.